Batman ► Batman (JLU)
Bruce Wayne ► Batman (JLU)
Justice League Unlimited (figures) ► JLU Characters in Figures ► Batman (JLU)
| | |
| --- | --- |
| | This is a CHARACTER page. See below for all available action figures based on this version of the character. |
Batman (JLU)
Alias:
Batman
Real Name:
Bruce Wayne
Place of Origin:
Gotham City
Affiliation:
Justice League
First Appearance
Secret Origins
Voice Actor:
Kevin Conroy
Character Type:
hero
Official Bio
Edit
Backed by Bruce Wayne¹s vast personal fortune and the scientific resources of Wayne Enterprises, Batman has access to all kinds of weapons and technology, from prototype hyperdrive vehicles to deep-space bat suits. But Batman is uncomfortable in the glare of the public spotlight. He prefers to work alone in the shadows, only joining a Justice League operation when absolutely necessary. When he does commit to helping the League, he brings to it the same fierce determination that he does to his own battles against crime. Batman's grim attitude often annoys his teammates, but he earns their respect with his unwavering dedication to justice.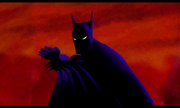 Batman Standard Mattel Animated Figures
Edit
These figures were the prerequisite to Justice League figures. As the line went on, other figures from the line appeared in JLU.
Click to see more details and history.
Batman Standard Justice League Figures
Edit
This 5POA version of Batman was released first in the Justice League (toyline) series, single carded. Eventually redecos/repaints followed until the sculpt was retired in favor of the second more-articulated sculpt, seen below. The sculpt returned later on following years of fan demand and became once again the staple Batman sculpt.
Click to see more details and history.
Batman Figures with More Articulation
Edit
This 9POA version of this character replaced the original 5POA figure to showcase more poseability to go with the play factor made available through Justice League's new accessories. Even after the Justice League line transitioned into Justice League Unlimited, the sculpt remained. However, as the line once again got reformatted, now as DC Universe: Justice League Unlimited Fan Collection, the sculpt was mostly shelved in favor of the returning 5POA figure.
Click to see more details and history.
3rd sculpt
Edit
Click to see more details and history.
| Figure | Image | Description | Release | Accuracy |
| --- | --- | --- | --- | --- |
| Batman 3 ver 1 | | BTAS colors with two-tone cape | DCUJLUFC single | show-based |