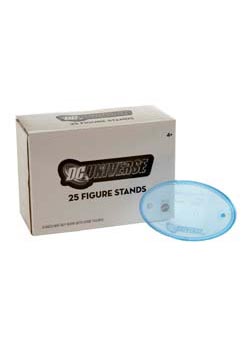 The perfect way to display and stand your Mattel DC Universe Classic action figures. Available in packs of 25 to help keep your collection looking its best. Stands are compatible with most Mattel DC Universe 6" action figures.
DC Universe figure stands are cast in clear blue plastic and sold as a set of 25 in MattyCollector.com. They are also available in DC Universe figures beginning in wave 7 with figures that anchored the wave. Beginning with wave 11, though, they started coming with figures that aren't anchors, but are echoes of the Super Powers toyline.
Beginning wave 12, Figure stands have begun to sport a tampo-stamped Super Powers logo. They're commonly attached to figures of characters originally FROM the Super Powers toyline, but also appear in Nightwing rereleases.
Infinite Heroes
Edit
DC Universe Infinite Heroes stands are identical to the DC Universe stands but are smaller. They are sold as a set of 40 in MattyCollector.com
Justice League Unlimited
Edit
DC Universe Justice League Unlimited stands differ in design as they do not just have peg holes. They also have one footslot and one footholder, ideally to hold any figure in the series.