Justice League Unlimited (figures) ► Superman JLU figures ► Superman 4 ver 1
| | |
| --- | --- |
| | This is a TOY page. Listed here is the information collected on this particular toy. |
Superman Beyond (JLU)
Figure (and number):
Superman Beyond (JLU)
Description:
Superman (Future)
Basis:
show-based (Batman Beyond)
First Released
2010
Buck/Body Type:
Type 1- Heavy
Points of Articulation:
5POA
Character Type
hero, JLU member

When Mattel told fans they had more coming from Batman Beyond this figure never came to mind but he certainly does not disappoint. If you are unfamiliar with his story, this is a much older Superman who invites the new Batman to join the future JLU and help him to find a traitor within the team. Over the course of this two part episode Batman discovers that Superman is the traitor and has been taken over by Starro. The first thing you'll notice is that this is a new Superman head. Following the more show accurate Martian Manhunter release, this is the second of the Big 7 to receive a new head this year. The new sculpt features a smaller and thinner head with a more upright neck and a darker skin tone. Like the Martian Manhunter head, I think this one would have been a little better if it was a split between the new and the old but it still looks good and it's a welcome change. Even if you don't like it, you can always use one of your 55 other Superman figures. His costume is show accurate and the details are all painted on. He also has his gray hair on the back of his head.
Official Bio (from JLU cardback)
Edit
"Years ago, Superman discovered several alien starfish stranded on a faraway planet and transported them to his Fortress of Solitude. One day, while feeding his ever-growing collection Starro jumped onto Superman's body and linked to his mind. Using the powers of the Man of Steel, Starro planned to invade Earth and call it home."
Releases and Accessories
Edit
Original review and images by j1h15233
Figure history
Edit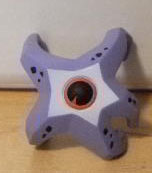 The single card release was found on ebay May 2010. No other news of any version of the figure was officially stated before then.