Justice League Unlimited (figures) ► The Flash JLU figures ► The Flash 3 ver 2
| | |
| --- | --- |
| | This is a TOY page. Listed here is the information collected on this particular toy. |
The Flash 3 ver 2
Figure (and number):
The Flash 3 ver 2
Description:
Barry Allen (The Flash)
Basis:
comic-inspired
First Released
2010
Buck/Body Type:
Type 3- Slim
Points of Articulation:
5POA
Character Type
hero, JL member
Official Bio (from JLU cardback)
Edit
"In a bizarre twist Lex Luthor's body was taken over by an embedded microscopic copy of Brainiac. Bound together, they concocted a plan to take over the universe. The Justice League tried to stop them, but the Brainiac upgrade made Luthor quite formidable. As the last man standing, The Flash needed to hit with enough force to take down the villainous super-powered combo."
Single-card release
Edit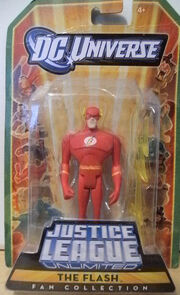 This Flash repaint was clearly meant to be a Barry repaint but part of me wonders if we will see a true Barry at some point in this line. This figure actually uses a different body and head than Wally but features a Wally bio on the card back so maybe we will get a real Barry in the future. That being said, this is exactly the sort of figure we have been asking Mattel for. They get to put a Flash figure on the pegs and we as collectors get a logical repaint. The body appears to be the smaller Atom buck and the head looks like another new sculpt for the line. We may see this new head on all future Flash figures but only time will tell. The red of his costume is a much brighter red than our JLU Flash. It's about the same shade as the Streak figure from the Justice Guild 4-pack and it looks pretty good. I think the original Flash is one of the more perfect figures in the line but I wouldn't mind seeing him in this shade of red as well. The yellow on this Flash is also notably brighter than Wally. The logo and lightning bolts on the costume are all different to reflect the costume Barry wears. Their paint apps are very crisp but the belt is a little light on the yellow paint. It's not an issue unless you're holding it right in front of your face though. The last little touch they added were the painted eyes. Instead of the white out we see on Wally, there are some blue eyes painted inside the mask and they really help to further differentiate these two Flash figures. He also comes with the lightning bolt accessory we've seen before but I doubt anyone is excited about that. I do hope we get a more accurate Barry one day but if we never do then this figure will be a very nice substitute.
Original review by j1h15233
Figure history
Edit
The single card release was found on ebay May 2010. No other news of a single-carded version was officially stated before then.